Microblading For Men?
It's a Thing!
People ask us all the time if guys get microblading and the answer is yes! Microblading is a relatively new trend, even for women, but that being said: there's a lot of curiosity around microblading eyebrows for men. Men, just like women, lose definition in the brow over time, and just like women, the tail of the eyebrow can become much thinner. Let's take a look at some recent clients and see how achievable results are.
Preparation before the procedure
If you plan to go on a vacation, it is recommended to plan your trip a minimum of 14 days after the procedure. We require our clients to avoid any blood thinning medication for a minimum of 72 hours prior to their appointment. This includes Vitamin E, Aspirin, Niacin, fish oil supplements, and Ibuprofen. Do not drink any alcohol the night before and day of your appointment and limit the amount of caffeine you consume.
If you have been on prescription Accutane in the past, you MUST wait at least one year before considering this procedure. It is highly recommended that you avoid the SUN and TANNING BED exposure for 30 days BEFORE and AFTER your procedure. If you show up for your appointment with a new tan or a sunburn, you will need to reschedule. As your skin exfoliates from a sunburn, it will take the pigment with it.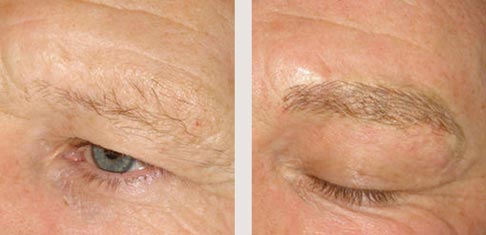 After/Healing Process
Your brows will appear darker and more intense than expected for the first few days. This will gradually lighten during the complete healing process. Redness and swelling is minimal. Please view our detailed aftercare instructions here.
Amount of treatments
For most clients, a minimum of two treatments are usually needed, at least 6-8 weeks apart. With most procedures, the color looks dramatically lighter . Everyone heals differently and at different rates. If your cosmetic tattoo does not heal perfectly after the first session, do not worry! We can always go darker and add more density at your next appointment.
Feature 1
The pre-microblading consultation is very important in understanding the client and creating brows they'll love everyday. Says founder of FACE & BODY, (who created these brows): "Those moments when you're drawing the shape and getting to know your client are very important. You have to ask the right questions." Most men don't draw on their brows.
Feature 2
This client wanted a very natural look, something that would be invisible to most. "We kept a very masculine look and shape for him." For the microblading artist, this can mean deviating from the standard eyebrow mapping. "On a women's eyebrow we might clean it up more and give it more shape. On a man's eyebrow we clean it up just enough, but not so much that you can tell."
Feature 3
This gentleman had nothing to work with, so we have him a total PhiBrow. "We added symmetry and we added tail, which is commonly what it is for females too." Is there any thing different when creating hairstrokes for a man versus a woman? "Well it always depends on who that man is, which goes back to the consultation. For men though, the strokes are slightly less curved."